"I found the experience to be incredibly empowering, cathartic, releasing, healing, and exhausting. It was wonderful to have a safe space where I felt supported and comfortable to do completely as I needed to without judgement."
- Founder/Coach from Chicago, USA
"This will sound cheesy, but I think you have fixed me! It's not easy to describe the past week since my mushroom truffle experience. I notice that, as the days go by, my social and work interactions are no longer dragged down by the weight of my insecurities. And of anger. I was holding on to so much anger against many things (and myself) and not recognizing it for what it was. And now most of it is gone. It feels like a veil was lifted and I can finally be myself. There's still a lot of work to do, but now I know where to begin."
- Engineering Manager from Portugal & 1st time mushroom user
"It's hard to put the transformation in words. Incredible amounts of healing occurred. I'm still processing the beauty, wonder & awe of you two using your art to guide us through that healing experience."
"I can honestly say this experience was probably one of the most profound and beautiful collection of moments I have ever been a part of. It is incredible to discover what sits within us and where our own minds can lead us when we let go. This is why what Amanda and Nikolitsa do is so wonderful. Not only do they guide you, feed you, take care of you and provide you with sensory stimuli, they also make sure that you have the best time possible and give you the freedom to explore even if it means they're left with an awful mess.
I personally was quite apprehensive about relinquishing all control and worried about the murky waters I could be pushed onto under the influence of psychedelics but every time any sort of darkness was lurking on the horizon, Amanda and Nikolista skillfully led me away towards the positive and did everything they could for me to have an exciting and beautiful trip.
As soon as I stepped over the threshold of their apartment, I felt at ease and was engulfed by the girls' incredibly positive, enthusiastic and loving energy. They took care of me every step of the way and let me carry out my explorations while always ensuring that I was safe. I have discovered surprising facts about myself and had some absolutely wild, exhilarating, mind-blowing time in Amanda's apartment which by the way is beautiful, cosy and inviting. A perfect place for a session of self-discovery.
I would do it again with Amanda and Nikolitsa without hesitation. I trust them completely. It feels like being psychedelic guides is their calling because they really care about every single person that walks through their door. I had a truly unique and wonderful time."
- Actress from London and first-time psychedelic user
"The experience as a whole was spectacular. I felt completely supported. All that you could need during the experience was right there. Wonderful arrangement. It gave me clear headedness, a whole new outlook of looking at things. Even though I feel I had some of the answers before the experience, I feel as if there's an enormous drive now to go on the self improvement journey."
- Engineer from Mumbai, India & 1st time mushroom user
"I came to the session feeling fairly lost and needed to answer a few questions around what I wanted for my future. While the experience didn't completely answer them, it showed me that I will be alright, regardless of what I choose to do. I came out feeling that I am in control of my own life and thoughts, that I have the time to be in control, which was not true before. Perhaps it's a temporary sensation, but I feel that now I can be more compassionate towards others and their circumstances, and let go of my own ego when needed.
But the most important part: it made me to let go of painful feelings that I was holding on to and wasn't fully aware of.
I feel it worked even better for me because it complemented the talking therapy sessions that I'm already undertaking. It helped settle down and lay a few thoughts to rest.
I love how Amanda and Nikolitsa guided the hallucinations by setting up different music and plants around the space. Under the influence, I felt like I was walking through some sort of wonderland, with dancing plants and shifting colours all over the place!
Amanda and Nikolitsa made sure all my needs were attended to. The physical ones with blankets, comfortable areas and delicious food! The emotional ones supporting me through the most difficult and also happiest moments, particularly.
I didn't really know what was going to happen during the experience for sure, but the preparation guide was very helpful. When the time came, I knew exactly what to do.
I would recommend this experience to others particularly if accompanied with therapy. Or, if someone isn't looking to solve existential problems, just for the fun of it! I'd do again just to experience all the illusions."
- Engineering Manager from Portugal & 1st time mushroom user
"From my trip, I learned that there is no reason for fear. I learned that I shouldn't force myself to do things that are against my nature."
-Software Engineer from Germany
"Amanda and Nikolitsa did a wonderful job of facilitating my experience, allowing me to follow the threads of my own mind completely without distraction. They provided the perfect environment for me to venture inwards, never pushing me but giving me subtle almost unseen nudges in the right directions and allowing me to make the most of this incredible experience. Their encouragement allowed me to delve beyond a superficial experience and into a meaningful dialogue with myself, allowing me to take in some truths about my life and myself that were both wonderful and much needed. This was an experience that I will be unpacking for quite some time, but thanks to their careful attention to my needs and my experience I feel like I have gained some much needed insight into my life and the people around me.
Keeping the space for me was crucial as I disappeared into my own mind, taking a very personal and inward journey. By taking care of the more banal necessities of reality with some delicious food and drinks, they enabled me to focus on the work I had to do within myself.
Thank you both again for facilitating this for me, i'm still trying to figure out what I experienced on Saturday but I can certainly testify that I feel more relaxed and less afflicted by the niggling anxieties of life. I hope to have this experience again."
- Student from the United Kingdom & 1st time psychedelic user
My guides helped me feel secure all the time, it was so helpful to have them there. From the experience, I got my questions answered...and I believe life is still full of colors for me."
- Psychologist from Cyprus & 1st time mushroom user
"I guess everyone arrives to mushrooms with different expectations. For me it was my eternal search for answers.
Throughout all my life I have struggled to decide what it was I wanted to be. It was hard to choose my university degree, then my career and I was never satisfied with the choices made. over time this search has become more desperate. As the pressure has started to grow to start my own family with my 30th birthday approaching, I was feeling life was closing in on me and I was running out of time.
On the outside my life is perfect: an interesting, well-paid job with great career prospects, I just got married to the love of my life, I live in the city of my dreams, I have wonderful friends. But deep inside that fear of not "finding myself" was building. And that's why I jumped on the idea of magic mushrooms. It has to be said, though, the way Amanda talked about the experience, I did not associate it with drugs (for which I have a huge stigma as many of us do). Even though I was trying to manage my expectations, I struggled: my imagination, fueled by my anxiety, was going wild with images of my inner calling being finally revealed to me. That upon my return I will know exactly what I want and I will proceed to follow that path whatever it might be. Of course, I knew it would never be like that, life just doesn't work in that way, but my imagination just took off and I couldn't bring it back to earth.
And indeed, what I got was something completely different to what I had expected. I found out that no answers were needed. And to my surprise, I was fine with that. Somehow, the search for answers, that urgency is now gone from my life. To me the experience was a gift of once again for a moment becoming a child. I was once again that little child self that always worked so hard, tried to please everyone, worried about underachieving, about disappointing her parents. I became that child again, and I loved that child, for that moment I truly loved myself and pitied myself for all that toughness that I have built up. I realized a very simple thing – but aren't all most true and beautiful things simple? – I just needed to let go, to stop trying to achieve and to please. I only wanted to play and have fun – things I deprived myself of as a child.
Amanda's presence was crucial. I should start with the fact that I never in my life thought I would be persuaded to take drugs (or at least, substances that are still illegal in most of the world). But it was through Amanda that I learnt about magic mushrooms and the power they hold. And I am scared to imagine all things that could go wrong if I tried to do the trip by myself with the limited knowledge I had. But Amanda's experience and support made me feel comfortable throughout the journey.
The apartment is perfect for it: it is light and spacious with huge leafy plants, flowers, crystals and other intriguing objects, which Amanda promptly passed to me to stimulate my imagination during the trip. She was always there for me, gently nudging towards a direction my journey was taking, making useful suggestions which helped me to understand better what was going on inside me, and generally being a constant support and an emphatic ear. I don't know how I could it without her.
Since the trip I have read a bit more psychedelics and learnt about the importance of set and setting. Well, I was just extremely lucky that I go such a perfect setting organized by Amanda! I am so extremely grateful for this beautiful and unique experience: I hardly can compare it with anything or find words to describe it. It was just pure beauty and love."
- Economist from Russia & 1st time mushroom user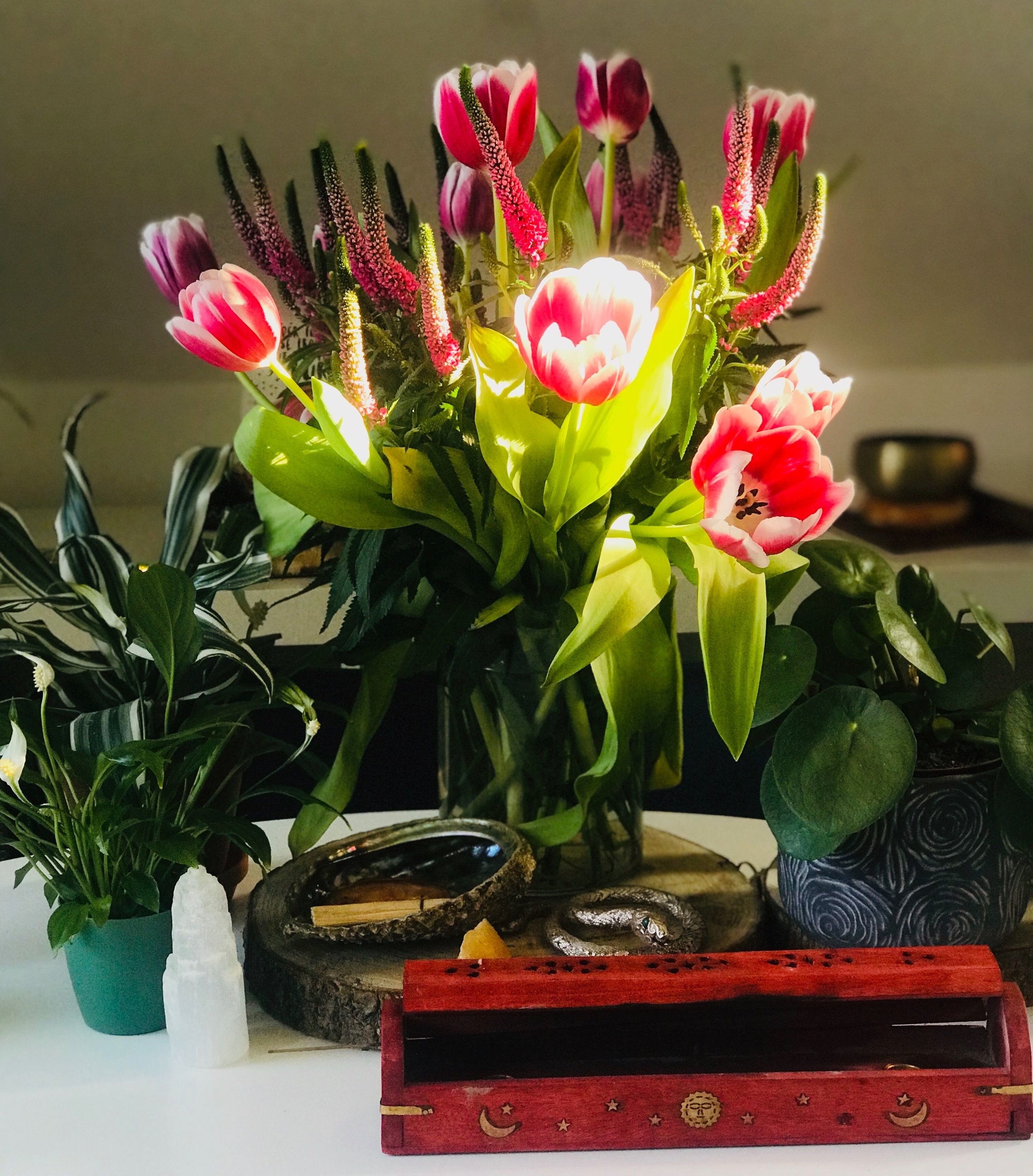 "My biggest takeaway from the experience was the importance of connecting with others. Although it has only been a week, I have already found it easier and more natural to reach out to people."
Law Lecturer at the University of Seychelles
"I came out of this experience feeling rejuvenated and with a new found appreciation for life and nature. I learned more about myself on one trip than I have through over a year of therapy. I found the experience to be extremely powerful, healing, exhausting and beautiful, in a way that I had not experienced so intensely in a long time."
-UX Designer from LA
"One of my key takeaways from the experience is that I am ready to take the next step forward on my journey of discovery."
Founder from Sydney, Australia & 1st time mushroom user
The setting really put you in a wonderland mood, particularly with the objects and pictures provided during the experience. It was my first time taking a high dose and that day changed how I see time and dimensions."
Software developer from Syria & 1st time psychedelic user
"I have been finding it challenging to put into words what the experience was for me, because it was so many things all at once. The concept of acceptance became so much clearer. I walked away from that day feeling like not having all the answers was okay, that things were a lot bigger than I could ever expect my brain to imagine, and there was clarity and humour in that. It was an experience of pain and joy co-existing. It wasn't what I expected, but even that ended up feeling right. The experience also taught me that emotional healing does exist, it is important, and it does not have to be seen as a purely self-indulgent thing. It can be part of a bigger picture of being able to live the values that you believe in. That acceptance was such a release of anxiety and a breath of actual life.
Amanda and Nikolitsa are the most beautiful people to be around, and they work so brilliantly together. The combination of the incredible creativity, foods and drinks provided by Nikolitsa and the complete understanding, organization and guidance provided by Amanda made me feel whole. I felt at home with them immediately. They intuitively knew what I needed throughout the experience. The psychedelics took me to a very vulnerable place and being held and accepted in those moments was so cathartic and validating. I can still feel the warmth that genuinely reached inside of me from Nikolitsa's hand on my hand. I really appreciated both of their abilities to create and hold space for me to process and open up without judgement. That space is so valuable and transferable to every day life; it is a place I want to create for others. The feeling of safety I experienced with them feels accessible to me now whenever I need it. They were both so integral to what I gained from my experience.
The preparation guide and phone call were essential for me. They gave me direction and reassurance. Practically, I felt very prepared. In the lead up to the experience, I also cultivated many new or revived practices (journaling, mantras, dream work) and a new appreciation for their value. They made me feel healthier overall. But, mentally, I don't think I could ever have completely prepared for what I experienced, because I didn't know how to accept the complexity of multiple states of being all at once."
- Marine Biologist from London
"I can honestly say this experience was probably one of the most profound and beautiful collection of moments I have ever been a part of."